Things to Do
Discover the Best of Comox Valley
Whether you're an avid outdoorsman, vacationing family or a couple on a romantic escape, the abundance of things to do in the Comox Valley is virtually limitless. You can explore beautiful gardens and Nymph Falls, hike or ski through pristine wilderness trails, visit world-class museums and art galleries and so much more. Just outside the doors of our hotel, you'll find the lovely Courtenay Riverwalk, a winding pathway that will take you on a stroll around the airpark and the beautiful estuary.
When planning your visit to Courtenay, our staff will be happy to recommend things to do and help plan your Comox Valley adventure.
Bayview Hotel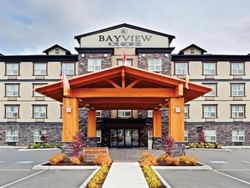 Bayview Hotel offers the ideal home away from home in beautiful Comox Valley, British Columbia with comfortable accommodations and modern amenities.